Constantin Brâncuşi Personal Life
Personal life
Brâncuşi always dressed in the simple ways the Romanian peasants did. His studio was reminiscent of the houses of the peasants from his native region: there was a big slab of rock as a table and a primitive fireplace, similar to those found in traditional houses in his native Oltenia, while the rest of the furniture was made by him out of wood. Brâncuși would cook his own food, traditional Romanian dishes, with which he would treat his guests.
Brâncuşi held a large spectrum of interests, from science to music. He was a good violinist and he would sing old Romanian folk songs, often expressing by them his feelings of homesickness. Nevertheless, he never considered moving back to his native Romania, but he did visit it eight times.
His circle of friends included artists and intellectuals in Paris such as Ezra Pound, Henri Pierre Roché, Guillaume Apollinaire, Pablo Picasso, Man Ray, Marcel Duchamp, Henri Rousseau, and Fernand Léger. He was an old friend of Romany Marie,
who was also Romanian, and referred Isamu Noguchi to her café in Greenwich Village.
Although surrounded by the Parisian avant-garde, Brâncuși never lost the contact with Romania and had friends from the community of Romanian artists and intellectuals living in Paris, including Benjamin Fondane, George Enescu, Theodor Pallady, Camil Ressu, Nicolae Dărăscu, Panait Istrati, Traian Vuia, Eugène Ionesco, Emil Cioran and Paul Celan.
Brâncuşi held a particular interest in mythology, especially Romanian mythology, folk tales, and traditional art (which also had a strong influence on his works), but he became interested in African and Mediterranean art as well.
A talented handyman, he built his own phonograph, and made most of his furniture, utensils, and doorways. His worldview valued "differentiating the essential from the ephemeral," with Plato, Lao-Tzu, and Milarepa as influences. He was a saint-like idealist and near ascetic, turning his workshop into a place where visitors noted the deep spiritual atmosphere. However, particularly through the 10s and 20s, he was known as a pleasure seeker and merrymaker in his bohemian circle. He enjoyed cigarettes, good wine, and the company of women. He had one child whom he never acknowledged.
Death and legacy
He died on March 16, 1957 at the age of 81 leaving 1200 photographs and 215 sculptures. He was buried in the Cimetière du Montparnasse in Paris. Also located in that cemetery are statues carved by Brâncuşi for several fellow artists who died; the best-known of these is "Le Baiser" ("The Kiss").
His works are housed in the Museum of Modern Art (New York), the National Museum of Art of Romania (Bucharest), and the National Gallery of Art (Washington, D.C.), as well as in other major museums around the world. The Philadelphia Museum of Art currently has the largest collection of Brâncuşi sculptures in the United States.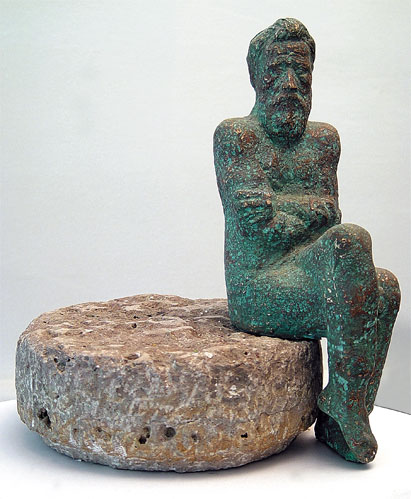 A reconstruction of Brâncuşi's onetime studio in Paris is open to the public. It is close to the Pompidou Centre, in the rue Rambuteau. After being refused by the Romanian Communist government, he bequeathed part of his collection to the French state on condition that his workshop be rebuilt as it was on the day he died.
Brâncuşi was elected posthumously to the Romanian Academy in 1990
.

In 2002, a sculpture by Brâncuşi named "Danaide" was sold for $18.1 million, the highest that a sculpture piece had ever sold for at auction.
In May 2005, a piece from the "Bird in Space" series broke that record, selling for $27.5 million in a Christie's auction. In the Yves Saint Laurent/Pierre Bergé sale on February 23, 2009, another sculpture of Brâncuşi, "Madame L.R", was sold for € 29.185 million ($ 37.2 million), setting a new historical record.
Brâncuşi on his own work
(French)

"Il y a des imbéciles qui définissent mon œuvre comme abstraite, pourtant ce qu'ils qualifient d'abstrait est ce qu'il y a de plus réaliste, ce qui est réel n'est pas l'apparence mais l'idée, l'essence des choses."


"There are idiots who define my work as abstract; yet what they call abstract is what is most realistic. What is real is not the appearance, but the idea, the essence of things."

(French)

"Ne cherchez pas de mystères; je vous apporte la joie pure."



"Don't look for mysteries; I bring you pure joy."

(Romanian)

"Am șlefuit materia pentru a afla linia continuă. Și când am constatat că n‑o pot afla, m‑am oprit; parcă cineva nevăzut mi‑a dat peste mâini."

[

12

]



"I ground matter to find the continuous line. And when I realized I could not find it, I stopped, as if an unseen someone had slapped my hands."

(Romanian)

"Muncește ca un sclav, poruncește ca un rege, creează ca un zeu."



"Work like a slave; command like a king; create like a god."

Selected works
Both
Bird in Space
and
Sleeping Muse I
are sculptures of animate objects; however, unlike ones from Ancient Greece or Rome, or ones from the High Renaissance period, these works of art are more abstract in style.
Bird in Space
is a series from the 1920s. One was constructed in 1925 using wood, stone, and marble (Richler 178). This one measures around seventy-two inches in height and consists of a narrow feather standing erect on a wooden base. Similar models, but made from different materials such as bronze, were also produced by Brâncuşi and placed in exhibitions.
Sleeping Muse I
has different versions as well; one, from 1909-10 is made of marble and measures 6 ¾ in. in height (Adams 549). This is a model of a head, without a body, with markings to show features such as hair, nose, lips, and closed eyes. In
A History of Western Art
, Adams says that the sculpture has "an abstract, curvilinear quality and a smooth contour that create an impression of elegance" (549). These qualities which produce the effect can particularly be seen in the shape of the eyes and in the set of the mouth.
Other works
Bust of a boy (1906)
The Prayer (1907)
La Sagesse de la Terre (1908)
Mademoiselle Pogany (1912), Philadelphia Museum of Art
Miss Pogany (1913) drawing, the Botarro Collection
The Kiss. 1916, Philadelphia Museum of Art
Madame L.R. (1914–1918)
A Muse (1917)
Chimera (1918)
Eileen Lane (1922), the Botarro Collection
Bird in Space, 1924, Philadelphia Museum of Art
Portrait of Nancy Cunard (also called Sophisticated Young Lady) (1925–1927)
Le Coq (1935)
In fiction
In the 1988 movie Short Circuit 2, a man walking through an outdoor exhibition speculates that the stationary Johnny 5 robot, who is also admiring the exhibit, is "an early Brâncuşi."
In the 2000 film Mission to Mars, the "Face on Mars" is modeled after Brâncuşi's "Sleeping Muse".
Constantin Brâncuşi



Constantin Brâncuşi; Photograph taken by Edward Steichen in 1922.

Born
February 19, 1876(

1876-02-19

)
Hobiţa, Romania
Died
March 16, 1957(

1957-03-16

) (aged 81)
Paris, France
Nationality
Romanian
Field
Sculpture
Training
École des Beaux-Arts
Movement
Modernism
Works
Bird in Space, The Endless Column
Patrons
John Quinn
Awards
Romanian Academy