The 1964 New York World's Fair at Flushing Meadow in Queens, New York had a two year run; from April 22 to October 18, 1964 and from April 21 to October 17, 1965 - a total of 360 days. It was held in conjunction with the city of New York's 300th anniversary of British forces under the command of the Duke of York gaining control of the Dutch city of New Amsterdam in 1664.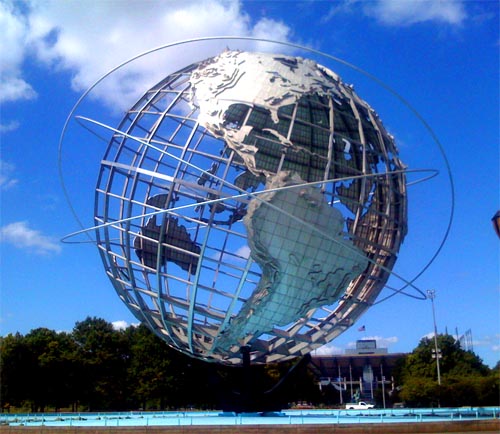 The 1964-65 World's Fair featured 140 pavilions on 646 acres, the old site of the 1939-40 New York's World Fair. Although the majority of the pavilions were United States commercial companies, there were also 21 state pavilions and 36 foreign pavilions. It was the dawn of the space age and the fair's theme was "Man in a Shrinking Globe in an Expanding Universe."
Unisphere
The Unisphere was the symbol of the 1964/1965 New York World's Fair. This 12 story high stainless steel model of the earth was designed and fabricated by the United States Steel Corporation and remains on the site at Flushing Meadow Park today, long after the fair had ended. During the fair it was located at the Fountain of the Continents, near the center of the fair. The view from the edge of the pool gave the observer a view of the world as it would appear from 6000 miles in space.
Boy Scouts of America
Add caption
The Scout Service Corps, composed of a different group of 130 boys and 13 leaders each week, demonstrates scouting skills in an open-air pavilion. In canopied booths Scouts and Explorers put on exhibitions of knot-tying, map and compass reading and fire making -- and invite onlookers to try their hand. Within a 300-seat Council Ring, visiting scout units join the Service Corps in various special shows developing the pavilion's theme "The Wonderful World of Scouting." Programs include seamanship, signaling and rope spinning. Members of the Service Corps, wearing distinctive red jackets and Unisphere armbands, are also stationed about the fairgrounds. They form honor guards for distinguished dignitaries and take part in other Fair ceremonies