Queen Victoria opens the

Great Exhibition

in

the Crystal Palace

in Hyde Park, London, in 1851.
World's Fair, World Fair, Universal Exposition, and World Expo (expo short for "exposition"), are names given to various large public exhibitions held in different parts of the world. The first Expo was held in The Crystal Palace in Hyde Park,London, United Kingdom in 1851 under the title "Great Exhibition of the Works of Industry of All Nations". "The Great Exhibition", as it is often called, was an idea ofPrince Albert, Queen Victoria's husband, and was the first international exhibition of manufactured products. As such, it influenced the development of several aspects of society including art and design education, international trade and relations, and even tourism. Also, it was the precedent for the many international exhibitions, later called "World's Fairs", which were subsequently held to the present day. In Acapulco, New Spain (Mexico), annual fairs took place for several centuries where countries from Asia exhibited their products brought to the New World by the Spanish Royal Navy Nao de China.
The main attractions at World's Fairs are the national pavilions, created by participating countries. At Expo 2000 Hannover, where countries created their own architecture, the average pavilion investment was around €13 million.Given these costs, governments are sometimes skeptical about participation as benefits are often assumed not to outweigh the costs. Tangible effects are difficult to measure; however, an independent study for the Dutch pavilion at Expo 2000 estimated the pavilion (which cost around €35 million) generated around €350 million of potential revenues for the Dutch economy. It also identified several key success factors for world exposition pavilions in general.
Since the entering into force of the 1928 Convention relating to International Exhibitions, the Bureau International des Expositions (BIE;English: International Exhibitions Bureau) has served as an international sanctioning body. BIE-approved fairs are divided into a number of types: universal, international or specialized. They usually last between three weeks and six months.
Further information:
List of world's fairs
Rudolph Charles von Ripper - New York World's Fair
World's Fairs originated in the French tradition of national exhibitions, a tradition that culminated with the
French Industrial Exposition of 1844
held in
Paris
. It was soon followed by other national exhibitions in continental
Europe
, and finally came to
London
where the first real international exhibition was held on May 1, 1851.
Since their inception in 1851, the character of world expositions has evolved. Three eras can be distinguished: the era of industrialization, the era of cultural exchange, and the era of nation branding.
The first era could be called the era of 'industrialization' and covered, roughly, the period from 1800 to 1938. In these days, world expositions were especially focused on trade and famous for the display of technological inventions and advancements. World expositions were the platform where the state of the art in science and technology from around the world was brought together. The world expositions of
1851 London
,
1862 London
,
1889 Paris
,
1893 Chicago
,
1900 Paris
,
1901 Buffalo
,
1904 St. Louis
and
1915 San Francisco
exhibitions can be called landmarks in this respect.
[

citation needed

]
Inventions such as the
telephone
were first presented during this era. An important part of the image of World's Fairs stems from this first era.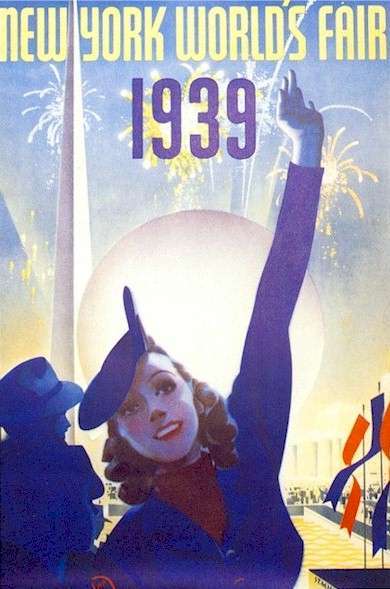 The international exhibition in
New York City
in 1939–1940 presented a departure from the original focus of the expositions. From then on, World's Fairs became more strongly based on a specific theme of cultural significance, and began to address issues of humankind. They became more future oriented and '
utopian
' in scope. Technology and inventions remained important, but no longer as the principal subjects of the Fair. "Building The World of Tomorrow" (New York, 1939–40), "Peace Through Understanding" (New York, 1964–65) and "Man and His World" (Montreal, 1967) are examples of these 'new' themes. Cross-cultural dialogue and the exchange of solutions became defining elements of the expos. The dominant Fair of this era arguably is
Montreal
's
Expo '67
. It was also during Expo '67 that organizers started calling World's Fairs "Expos" (Montreal's Major League Baseball team, which played from 1969 until it moved to Washington, D.C. in December 2004, was named the Expos, in honor of the 1967 fair).
From
Expo '88
in
Brisbane
onwards, countries started to use World Expositions more widely and more strongly as a platform to improve their national images through their pavilions.
Finland
,
Japan
,
Canada
,
France
and
Spain
are cases in point. A large study by Tjaco Walvis called "Expo 2000 Hanover in Numbers" showed that improving national image was the primary participation goal for 73% of the countries at
Expo 2000
. In a world where a strong national image is a key asset, pavilions became advertising campaigns, and the Expo a vehicle for 'nation branding'. Apart from cultural and symbolic reasons, organizing countries (and the cities and regions hosting them) also utilize the world exposition to brand themselves. According to branding expert
Wally Olins
,
Spain
used
Expo '92
and the
1992 Summer Olympics
in
Barcelona
in the same year to underline its new position as a modern and democratic country and present itself as a prominent member of the
European Union
and the global community.
Today's world expositions embody elements of all three eras. They present new inventions, facilitate cultural exchange based on a theme, and are used for city, region and
nation branding
.
Presently, there are two types of world expositions: registered and recognized (sometimes unofficially known as "major" and "minor" fairs, respectively. Registered exhibitions are the biggest category events. Previously, registered expositions were called "Universal Expositions". Even though this name lingers on in public memory, it is no longer in use as an official term. At registered exhibitions, participants generally build their own pavilions. They are therefore the most extravagant and most expensive expos. Their duration may be between six weeks and six months. Since 1995, the interval between two registered expositions has been at least five years. Most recently, the registered exposition
Expo 2010
in Shanghai was held from May 1 through November 1, 2010.
Recognized expositions are smaller in scope and investments and generally shorter in duration; between three weeks and three months. Previously, these expositions were called "International or Specialized Expositions" but these terms are no longer used officially. Their total surface area must not exceed 25 ha and organizers must build pavilions for the participating states, free of rent, charges, taxes and expenses. The largest country pavilions may not exceed 1,000 m2. Only one recognized exhibition can be held between two registered exhibitions.
There are also two types of auxiliary expositions: the horticultural exhibitions, which are joint
BIE
and AIPH-sanctioned 'garden' fair, participants present gardens and garden pavilions and Milan Triennials.
Universal Expositions encompass universal themes that affect the full gamut of human experience, and international and corporate participants are required to adhere to the theme in their representations. Universal expositions are usually held less frequently than specialized or international expositions because they are more expensive as they require total design of pavilion buildings from the ground up. As a result, nations compete for the most outstanding or memorable structure—recent examples include
Japan
,
France
,
Morocco
&
Spain
at
Expo '92
. Recent Universal Expositions include
Brussels
Expo '58
,
Montreal
Expo 67
,
Osaka
Expo '70
, and
Seville
Expo '92
. Sometimes prefabricated structures are also used to minimize costs for developing countries or for countries from a geographical block to share space (i.e. Plaza of the Americas at Seville '92).
The only Universal Exposition to be held without BIE approval was the 1964–1965 New York World's Fair.The sanctioning organization at Paris denied them "official" status because its president,
Robert Moses
, did not comply with BIE rules in place at the time, namely the one limiting the duration for Universal Expositions to six months only. Both World's Fairs in New York (1939–40 and 1964–65) have the distinction of being the only two-year world expositions in history. The Fair proceeded without BIE approval and turned to tourism and trade organizations to host national pavilions in lieu of official government sponsorship. However, a large number of countries did participate in the world's fair including several newly independent African and Asian states. Frederick Pittera, a producer of international fairs and exhibitions and author of the history of world's fairs in the Encyclopædia Britannica and Compton Encyclopedia), was commissioned by Mayor
Robert F. Wagner Jr.
of New York City in 1959 to prepare the first feasibility studies for the 1964 New York World's Fair. Pittera was joined in his study by Austrian Architect
Victor Gruen
(Inventor of the 'Shopping Mall').The Eisenhower Commission ultimately awarded the world's fair bid to New York City against several major U.S. cities.
Since the turn of the 21st century the BIE has moved to sanction expos only every five years; following the numerous expos of the 1980s and 1990s, some see this as a means to cut down potential expenditure by participating nations. The move was also seen by some as an attempt to avoid conflicting with the
Summer Olympics
. The rule may apply to all expos, or it may end up that Universal expositions will be restricted to every five years or so, with International or Specialized expositions in the in-between years for countries wishing to celebrate a special event.The most recent universal expo was
Expo 2010
in
Shanghai
.
International expositions are usually united by a common theme—such as Transportation (
Vancouver
Expo 86
), or, 'Leisure in the Age of Technology' (
Brisbane
,
Expo '88
). Such themes are narrower than the wider scope of Universal expositions.
Specialized and international expositions are usually smaller in scale and cheaper to run for the host committee and participants because the architectural fees are lower and they only have to rent the space from the host committee, usually with the prefabricated structure already completed. Countries then have the option of 'adding' their own colours, design etc. to the outside of the prefabricated structure and filling in the inside with their own content. One example of this is
China
, which has often chosen to add a Chinese archway in the front of its prefabricated pavilions to symbolize the nation (
Expo '88
,
Expo '92
,
Expo '93
).
The 2008 International Exhibition has been hosted by
Zaragoza
, Spain with the theme "Water and the Sustainable Development".
Expo 2012 will be held in
Yeosu
,
South Korea
, with the theme "The Living Ocean and Coast: Diversity of Resources and Sustainable Activities".
List of hitherto official world expositions (Universal, International/Specialised, Horticultural) according to the Bureau International des Expositions and ExpoMuseum:International Registered Exhibitions now held every five years are in bold. Upcoming world expositions are in italics.
1851 London

(

United Kingdom of Great Britain and Ireland

)

1855 Paris

(

France

)

1862 London

(

United Kingdom of Great Britain and Ireland

)

1867 Paris

(

France

)

1873 Vienna

(

Austria

)

1876 Philadelphia

(

United States

)

1878 Paris

(

France

)

1879 Sydney

(

New South Wales

,

BritishAustralia

)

1880 Melbourne

(

Victoria

,

British

Australia

)

1884 New Orleans

(

United States

)

1885 Antwerp

(Belgium)
1888 Barcelona (

Spain

)
1889 Paris (France)
1893 Chicago (United States)
1897 Brussels (Belgium)
1900 Paris (France)
1901 Buffalo (United States)
1904 St. Louis (United States)
1905 Liège (Belgium)

1906 Milan

(Italy)
1907 Dublin (United Kingdom of Great Britain and Ireland)

1907 Norfolk

(

United States

)

1909 Seattle

(

United States

)

1910 Brussels

(

Belgium

)

1911 Turin

(

Italy

)

1913 Ghent

(

Belgium

)

1915 San Francisco

(

United States

)

1915 San Diego

(

United States

)

1929 Seville

(

Spain

)

1929 Barcelona

(

Spain

)

1930 Liège

(

Belgium

)

1930 Antwerp

(

Belgium

)

1933 Chicago

(

United States

)
1935 Brussels (Belgium)
1937 Paris (France)
1939 New York City (United States)
1939 Liège (Belgium)
1939–1940 San Francisco (United States)
1958 Brussels (Belgium)
1962 Seattle (United States)
1964/65 New York (United States) (not BIE sanctioned)
1967 Montreal (Canada)
1968 San Antonio (United States)
1970 Osaka (Japan)

1974 Spokane

(

United States

)

1982 Knoxville

(

United States

)

1984 New Orleans

(

United States

)

1985 Tsukuba

(

Japan

)

1986 Vancouver

(

Canada

)

1988 Brisbane

(

Australia

)

1992 Seville

(

Spain

)

1992 Genoa

(

Italy

)

1993 Daejeon

(

South Korea

)

1998 Lisbon

(

Portugal

)
2000 Hannover(

Germany

)

2005 Aichi

(

Japan

)
2008 Zaragoza (

Spain

)
2010 Shanghai (

China

)
2012 Yeosu (

South Korea

)
2015 Milan (

Italy

)
Expo 2017 or 2018 yet to be designated
Expo 2020 yet to be designated
And International Horticultural Exhibitions (upcoming in italics):
1960 Rotterdam (Netherlands)
1963 Hamburg (Germany)
1964 Vienna (Austria)
1969 Paris (France)
1972 Amsterdam (Netherlands)
1973 Hamburg (Germany)
1974 Vienna (Austria)
1980 Montreal (Canada)
1982 Amsterdam (Netherlands)
1983 Munich (Germany)

1984 International Garden Festival Liverpool (United Kingdom)
1990 Osaka (Japan)
1992 The Hague (Netherlands)
1993 Stuttgart (Germany)
1999 Kunming (China)
2002 Haarlemmermeer (Netherlands)
2003 Rostock (Germany)
2006–7 Chiang Mai (Thailand}

]

2012 Floriade in Venlo (Netherlands)
2016 Antalya (Turkey)